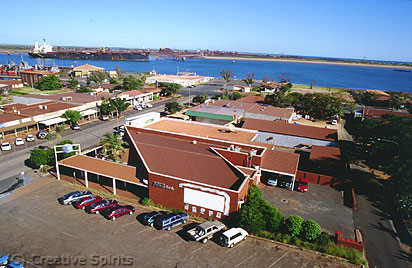 Holycow, i've been away for a while, been over to the other side of the country for a potential job for my other half. We flew to Perth then up to Port Hedland, which was both interesting and boring, the town is boring, but the people are interesting! Actually there was building works in progress to make it more attractive and there was the most amazing dress shop there with more designer clothes than i had ever seen in one place, but I didnt have enough time to really look properly oh it was a shop i could live in! So many clothes not enough time.
It was very warm around 30c not bad for winter, summer is a killer though at temps around 40-45c. We had been to the area before, so not much new there, all red dirt and spinifex right up to the coast, although there were some nice palms on the coast, and the house we liked was brand new, huge and right on the coast. But i am staying put as our children are at a critical stage of their schooling.
Then it was back to Perth where we caught up with some long time friends which was fabulous. We stayed at the Hyatt thankyou very much, which was also fabulous. Perth hasnt changed much since i was last there, but Fremantle which is lovely has loads of coffee shops, and markets in the old port warehouses. We drove up the coast on our way up to the city which was pretty, and had a lovely lunch in Kings Park which overlooks the city, very nice.
So now i have been busy in the lead up to our daughters 14th brthday, will load the pics of that in next post! Mammoth effort there!